---
David Davies
Obituary published on the Jewish Chronicle, 16th January 2004.
Born Baghdad, May 14, 1909. Died London, December 18, 2003 aged 94.
Widely credited with introducing affordable mass-market clothing to Britain from the factories of the Far East, David Davies was an established international trader long before arriving in Britain in 1964.
Born David Abdul Nabi into a respected Baghdad family, he struck his first deal while still at school. In 1938 he left Baghdad for the East Indies and set up a trading company in Java, dealing successfully in paper, coffee and tea, and incidentally learning the art of tea-blending.
When the Japanese overran Java in March 1942, he was interned with the city's expatriate community and endured the horrific conditions of Japanese camps. When the Second World War ended in the Pacific in August 1945, he was one of the only handful to emerge alive from a camp which once housed 17,000.
Despite suffering nightmares for the next decade, he refused to harbour any hatred of Japan. The Japanese, he remarked philosophically, treated their own troops no better then their civilian captives.
After the war, he decided to resume his trading career in the US, but a bureaucratic slip of the pen gave him papers for the UK instead. Typically while waiting for his visa he set up a trading business.
By seeking out and cultivating sources of supply, first in Hong Kong, then Taiwan and Korea, he was able to introduce the British consumer to imported clothing at previously unheard-of price levels.
Through his companies in the East End of London Davies and Co. and later D.E. Davies and son (Textiles) Ltd, he built up an unparalleled network of suppliers around the world, especially the Far East, on a basis of mutual trust, through which he supplied goods to major national chains such as Tesco and C&A.
In the post-war years, Far Eastern manufactures were dismissed as shoddy goods, but David Davies proved it possible to source quality clothing at sensible prices, 25 years ahead of the rest of the trade.
He generously shared the secrets of his trade with successive waves of new Iraqi immigrants, many of whom used his methods and generous credit terms to lay the foundation to their own wealth and success.
Having grown up in old Baghdad with its large, thriving Jewish population, he was convinced of a possibility of peaceful co-existence between Jews and Muslims. His own experience of global trade and travel confirmed his belief that national boundaries were insignificant in the face of the universal human qualities of good and evil.
His last years were blighted by the premature death of his beloved son, Peter, in 1990. He is survived by his wife Vilma, daughter Linda and two grandchildren, Lara and Daniel.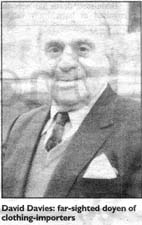 If you would like to make any comments or contribute to The Scribe please contact us.