Community
---
Suzette Mahlab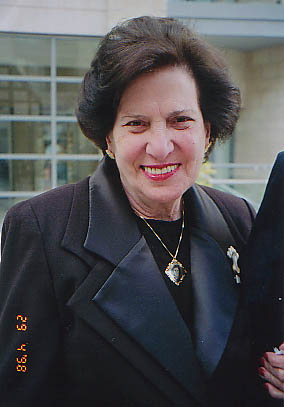 We are forwarding an obituary on behalf of Suzette Mahlab z'l, my beloved wife and our mother. Please include this in your next issue of the Scribe.
Thank you,
Dr. Edward, Tikva, Zahava, Hanna, Dorothy Mahlab
mahlabedsu@aol.com
Suzette Mahlab was born in Baghdad, Iraq on March 23, 1923. She was the seventh of eight children born to Saleh Sasson Mahlab and Heloi Dellal. Suzette attended the Laura Kadoorie Alliance Israelite School for Girls. On April 19, 1948, Suzette married her first cousin Dr. Edward Mahlab in Baghdad and proceeded to establish her first home as a bride. When trouble against the Jews exacerbating, Suzette's brother-in-law, Albert, was imprisoned on false charges. Edward worked tirelessly with attorneys and bribed officials to negotiate Albert's release and successful escape from Iraq. Subsequently, Suzette insisted she and her husband leave Iraq immediately, lest the authorities arrest her husband and she would have no one to defend him.
Suzette and Edward arrived in Israel in 1951 where they remained for 12 years. As a new immigrant, Suzette was one of the few Iraqi women to drive and go to work. She worked as a ground hostess for British Airways and managed a duty free shop in Lod Airport (now Ben Gurion Airport). In the early 1960's, Suzette and Edward moved their family to the United States.
Suzette was the uniting force in her family. Her homes in Iraq, Israel and the U.S. were gathering places for family and friends. Suzette maintained a traditional Iraqi home. She was known for her exceptional cooking of Iraqi dishes.
Suzette was an elegant strong woman with a good heart. She was deeply rooted in her faith in Judaism and her strong unbending faith in G-d. She maintained strong ties to Israel, visiting frequently and providing support any way possible.
Suzette passed away on May 20, 2003. After her death, every family member, friend or acquaintance mentioned her smile and how she touched them. This was appropriate since Suzette's motto was "A smile costs nothing, but gives much".
She is survived by her husband, Dr. Edward Mahlab, her daughters, Tikva, Zahava, Hannah, Dorothy Mahlab (New York), and her brothers, Salim Mahlab (New Jersey) and Naim Mahlab (Montreal).
Suzette was a true Eshet Chayil.
Rabot banot Asu Chayil veat Alit al Kulana. Many daughters have done valiantly but you excelled them all.

If you would like to make any comments or contribute to The Scribe please contact us.