News
---

________________________________________________
Comment on the article from Khaled al Queshtaini by Shula Z. Moshe Abu al Thalj (Gabbay), Canada
My late father MOSHE ABU AL THALJ (zl) was a legend one of a kind, a very decent, giver, big heart never rejected people in need, he believed in (God helped me to have a good life, I'll help others to have a good life too). I am very disappointed from Khaled in his article the way he talked about my Dad. My father built the ice Factory (MAAMAL THALJ AL RAFIDAIN) LONG BEFORE THE BAATH PARTY. It was during the rule of the late King Faisal, my Dad built the 60 houses for his employees and their families, he urged the parents to send their kids to study; my father was their king. The business boomed with the late (ABDEL KARIM KASSEM). By the way, he was our neighbour.
My late father Moshe built the houses for his employees long before THE BAATH PARTY, which did not exist then, my Dad's business was amazing during KASSEM rule.
Unfortunately, my father had problems when AL BAATH came to power, when one Friday morning there was bad news on T.V. the government decided to put their hands on all the private oil & etc. shares, in which we had a lot of investments.
Two weeks later my father passed away, my Mom Leonie all of a sudden she became the business woman responsible of four under age children, my Mom became a super woman very smart and very brave she tells me always that God was watching over us and protecting us.
After the six day war everything changed trust me the only thing you can find in every Jewish home is (VALIUM MEDICATION).
I have to add another important issue to clear from your records that my Mom Leonie, never gave up the ownership of the ice Factory.
The one thing that we always remember and very grateful is when my Mom went to EZZAT AL DOORY OFFICE he welcomed her and greeted her (MY BOSS'S WIFE) in Arabic he said (MART ESTATHI). He granted my family the passports, we do not forget good deeds.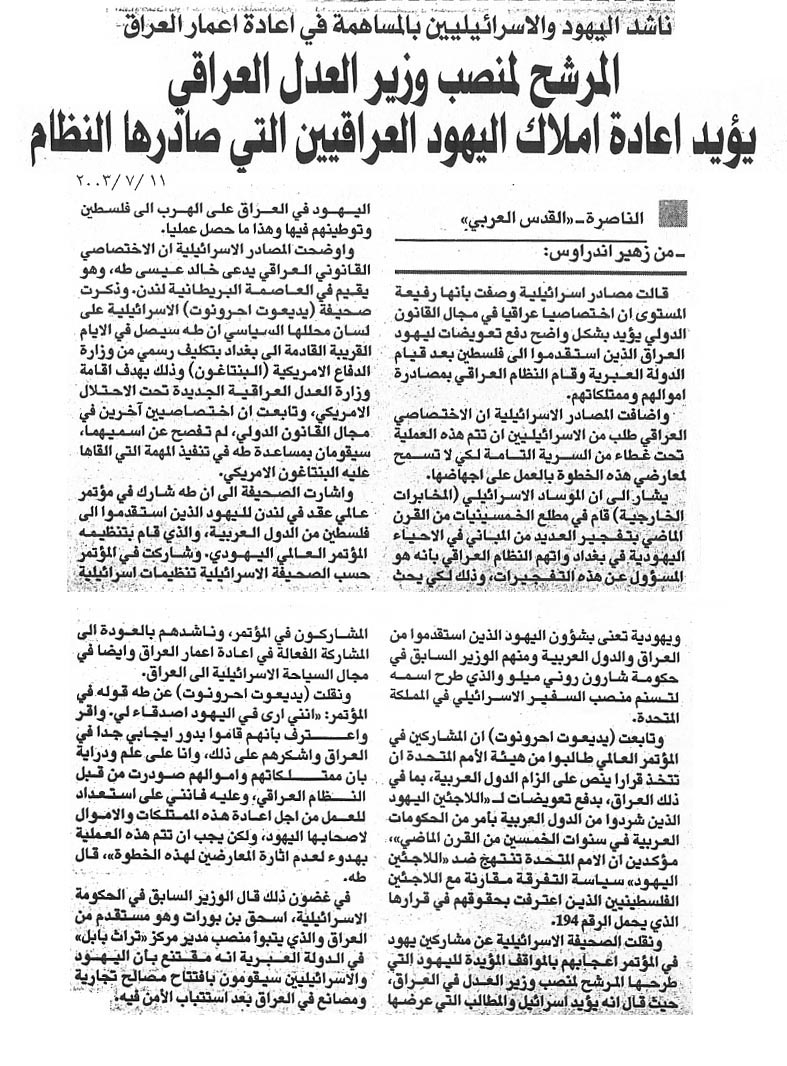 If you would like to make any comments or contribute to The Scribe please contact us.