Naim Dangoor with Chancellor Gordon Brown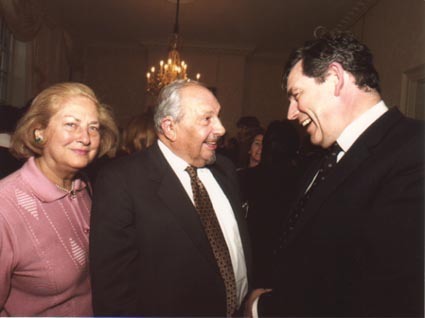 Lord Rothschild, President of the Institution for Jewish Policy Research, organised a fund-raising last June at 11 Downing Street, official home of the Chancellor of the Exchequer, to which 130 guests attended. The above photograph shows The Rt Honourable Gordon Brown, MP Chancellor of the Exchequor (on the right) listening attentively to Naim Dangoor's pet theory of interest-free money. The Chancellor has already introduced a basic national dividend which can easily be linked to the working of an interest-free monetary system. Mrs Renée Dangoor looks on with amusement.
---
If you would like to make any comments or contribute to The Scribe please contact us.