Why not try a rose with your prose?

Say it with poetry and flowers seems to be the idea behind a fresh display in a South Kensington shop.
The whole of August will see an exhibition of poetry by the writers Daniel Roberts (pen name of Robert Dangoor), Rupert Brooke and John Clare combined with a floral display at Flowers Inc II in Gloucester Road.
Store owner Rosnina Ladak had the idea to link her floral arrangements with the writing. Poet Robert said: "I told Rosnina I would give her my book and she could take out of it whatever works she thought would be right."
The display has used poetry from his book The Way It Is, and there is poster work throughout the shop with words written in calligraphy. The shop has been blending poetry with flowers since it opened five years ago.
Roberts added: "The shop promotes poetry in a commercial vein which enhances community spirit."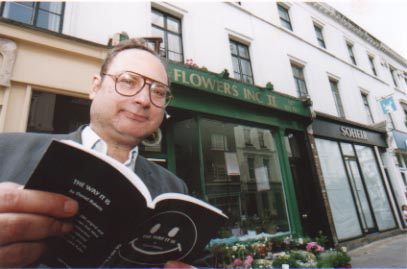 Pictured is Robert Dangoor getting stuck into some poetry outside Ms Ladak's shop.
---
If you would like to make any comments or contribute to The Scribe please contact us.