On the occasion of the 30th Anniversary of The Scribe, we reprint selected articles from previous issues.
The Cellar Club
In 1970 the younger members of the Iraqi Community in London established their own club – The Cellar Club.

Samir Samra relates how it came about: Sitting with my wife Ingrid at a party, I heard somebody mumbling about a club. Positioning my ear a bit better, I find it is about the same old club that I had been hearing about since I arrived to this country but never seen. I then decided to move my whole head nearer to Ketty Shohet and Jimmy Shamash. We contacted Emile Cohen who was thinking about it as well. However, we did not understand what each one meant. A meeting was next arranged with Naim Dangoor (who had just established the Gardenia Club) and off we went, four of us; Emile Cohen, Edward Ezer, Jimmy Shamash and myself. Naim Dangoor gave us his blessings and we drove back happily.

At a plenarily meeting twenty of us were sitting round a table with Emile as Chairman and six committee members and their "Mishpaha". Then it dawned on me that each one of us had a different idea as to what the Club meant. Emile wanted a House of Parliament, Jimmy a restaurant, Charlie a discotheque; Soad and Samira a place to go to; Yvonne an educational institute. To me a club would mean nothing but a Qahwa (coffee house). The funny thing is that none of these tied up with the Seniors idea who wanted an undercover marriage bureau.

The Cellar Club, in the basement of the Gardenia Club, was declared open on the 25th January 1970 to a meeting of 40 or so people.

Historical note:

The Gardenia Club building was acquired in 1969 at the price of £19,000; the premises are now worth one million pounds.

The 1973 committee members of the club are introduced by the Editor of the Club journal, Emile Cohen, as follows:

Chairman: Jack Attraghji, known as the one-eyed Jack

Secretary: Vivi Shina, Queen of Sheba and Duchess of the Island of Waq Waq

Treasurer: Sami Dellal, Financial Advisor to the Bank of England and several firms in the City

Committee Member: Dora Tawfiq, Miss World 1900

Committee Member: Danny Dellal, one of the original members of the Ali Baba group

Committee Member: Sabah Rashti, Paul Newman in disguise

Committee Member: Nadia Shina, Cilla Black of the Cellar Club

The Club runs activities of various natures, basically serving to entertain and cultivate our members. Guests are welcomed and treated with respect and friendship until they pay their £2 membership!

On the cultural side, talks, discussions and debates occupy a major part. General knowledge quizzes always manage to hold an attentive audience. Dancing parties with disco and flashing lights etc. are always popular, with food and booze amply provided.

The Cellar Band or the Doub-a-Doub is a musical group playing a variety of musical compositions from Victor Sylvester to the Beatles and in several languages. They established themselves in the late months of 1972 and in the months ahead they should gather momentum and score their successes.

We have also got a drama group which has produced several plays and shows with tremendous success. The Cellar Drama Group has captivated audiences of about 200 people a show.

The plays that were performed were: "Lock up your sons" – by David Gabbay. A year later, David Gabbay wrote another play "The Bible" and by then we were well established and had money to spend on production. Edward Ezer made some beautiful recordings of "God" and had various technical effect to exhibit. We had some new actors notably Freddy Zelouf who took the part of Samson and got so carried away in his acting that when he had a fight on stage (part of the play) with Jack Attraghji he broke three of Jack's ribs. Good job he was not asked to kill Jack. The Bible was the best production we made and lasted for 21/2 hours.

The style of the two plays were comedies and this really is the basis of success. Iraqis, I think, would be very susceptible to serious dramatic plays. The success earned from these plays spurred others to write.

Emile Cohen wrote and directed a play in Arabic called "Yallah ya Shabab". This was a serious comedy with a lot of politiical motives and views and was one of the best acted plays. This was coupled with "The Marriage Broker", directed by Ezra Sopher starring Isaac Amber as a woman marriage broker. This was undoubtedly the funniest play of them all and the most successful.

1971 was a very good year for plays and in Christmas we made a show called "After Ramadhan.................Christmas" which was composed of funny sketches and songs and nearly all the people who took part were newcomers.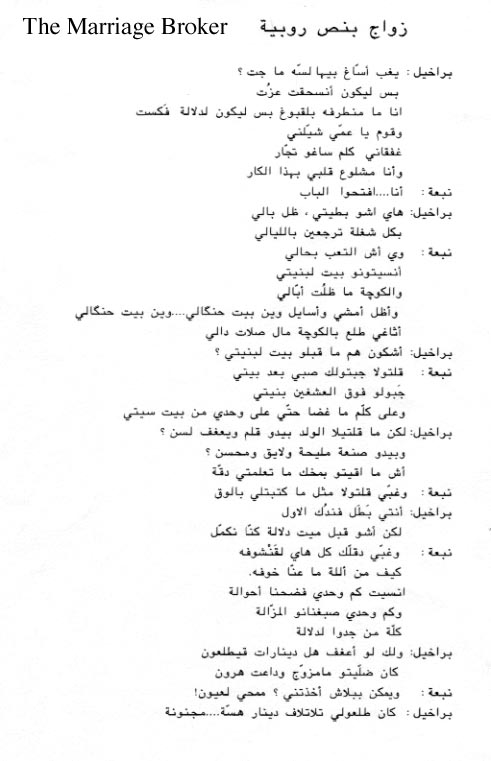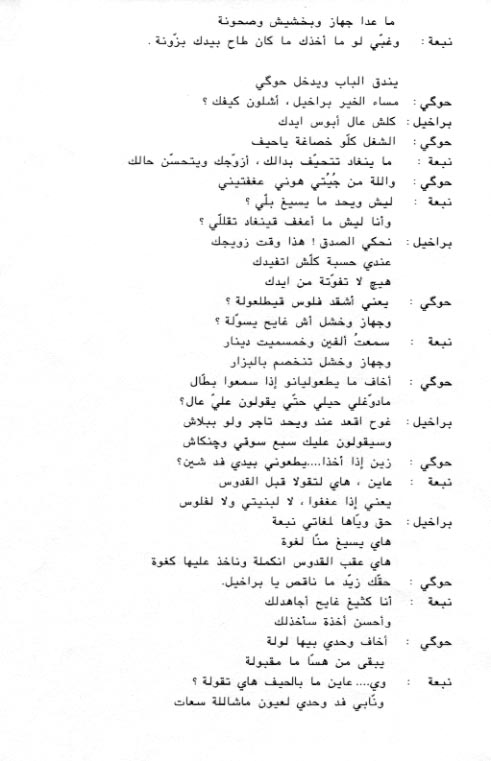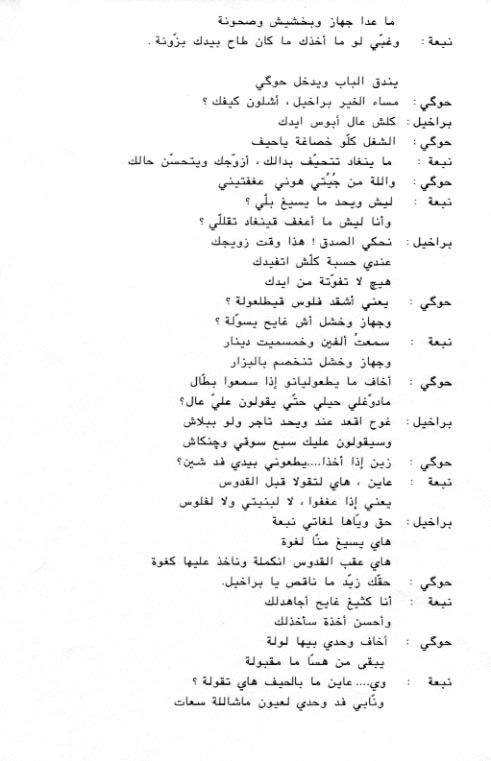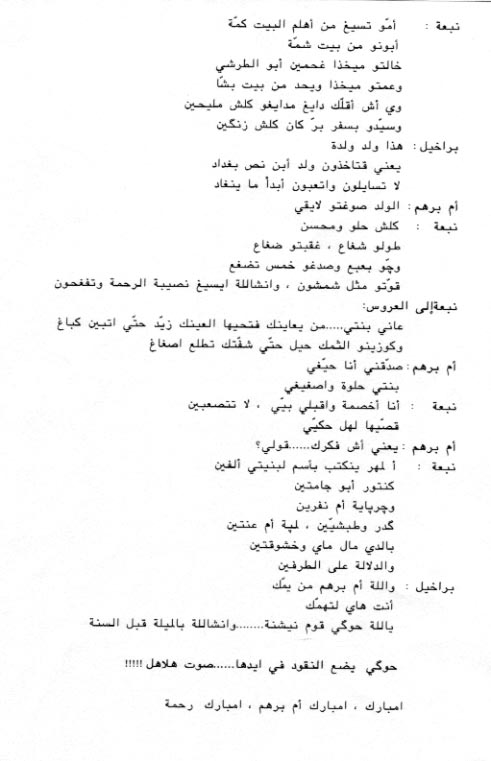 Other selected articles from previous issues :
Abraham, Father of the Middle East
Iranian Jewry Celebrates Cyrus
In the Footsteps of Adam
The Arabs Will Never Make Peace with Reality
---
If you would like to make any comments or contribute to The Scribe please contact us.