98 And Still Working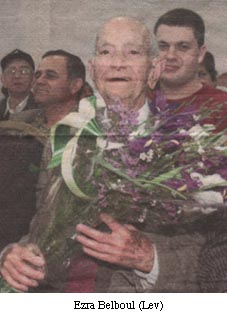 Ezra Belboul (Lev) continues working at the Ministry of Defence at the age of 98. He was born in Baghdad in 1903. In 1917 with the British entry to Baghdad, he was employed by the British authorities at the young age of 14 for his knowledge of Arabic, French, Turkish and English. They found him trustworthy and reliable. He rose in his position to become personal secretary to the British Governor. He also worked with King Feisal I and was in his entourage when he met King Ibn Saud in 1930 on board a British battleship. He occupied important positions in the Iraqi Ministry of Interior until his emigration to Israel in 1950.

In Israel he was appointed as translator in the Ministry of Defence and remained in this position until he was pensioned in 1968, but continued to work with a salary until the year 2001. He still continues to work without pay as he finds his work to be his life. He has 2 sons and 2 daughters and 26 grandchildren.
**
Letter of Appreciation from The Attorney General, Jerusalem – 25 January 2001

Dear Mr Ezra Lev

I have learned with pleasure that you have attained the age of ninety-eight years, in well-being and good living, and that the Ministry of Defence will distinguish this day during which you will conclude your period of formal work in this office and will commence your work as a volunteer. This makes me want to tell you: may you continue to stand on your post, as you have done over one generation's time from the usual age of retirement. Yours is an outstanding phenomenon, few, if any, of which can be found in public service. The beauty of this is that, firstly, that the administration appreciates the importance of your service, and secondly, in that your service is that of the Defence of Israel, a country still struggling for peace and security. May you know happiness and live for many years to come, in good health.

Best wishes,

Elyakim Rubinstein
---
If you would like to make any comments or contribute to The Scribe please contact us.