Page 29
The Baghdad Hangings, Baghdad 1969
IRAQI JEWISH MARTYRS 30TH ANNIVERSARY
Speech by Percy Gourgey, MBE
Chairman: Jews of Arab Lands Committee
Thirty years ago today 9 innocent Jews were publicly hanged in Baghdad's so-called 'Liberation Square,' falsely accused of spying for Israel. This atrocity shocked the civilised world and focused world attention on the cause of Jews of Arab Lands with all that implies especially in terms of human rights.
In London the day after the hangings with lurid photographs in the press, there was a mass protest demonstration outside the Iraqi Embassy in Kensington, London of over 5,000 people, organised by the Board of Deputies, the Spanish & Portuguese Synagogue and other communal bodies. So effective was it that the Iraqi authorities summoned the British ambassador in Baghdad to complain about it and he replied that Britain was a free, democratic country and people were free to express their sense of outrage at such incidents.
At the time, Hassan al-Bakr was President of Iraq and Saddam Hussein was his right-hand man, whose Ba'ath Party had seized power in a military coup six months before. The Jewish community in Baghdad traced its origins to Babylonian times, 2,500 years ago making immense contributions to the development of Judaism through the Babylonian Talmud, the Religious academies, fruitful exchange of rabbis and scholars with Spain, and subsequently. In fact, the modern Baghdad is about 190 miles from the ancient Babylon and Iraq's President Saddam Hussein had plans to develop it as a major tourist attraction, which was nullified by his invasion of Kuwait in August 1990, and the ongoing crisis caused by Iraq's weapons of mass destruction.
This service is a Kiddush Hashem and reflects great honour on the martyrs and all present here this evening. The Psalm 137 read earlier refers specifically to the Babylonian community, beginning: 'there by the waters of Babylon, we hanged our harps on the willows and wept at the remembrance of Zion.' Later in the Psalm are the words, 'If I forget thee, O Jerusalem, let my right hand forget her skill' which Dr. Theodor Herzl used as the rallying cry for the establishment in 1948. Two months before the 1969 hangings, the World Jewish Congress was warning of the impending tragedy.
Following are extracts of a statement to the Maariv newspaper in Tel-Aviv in March 1991 made by Mrs Selima Gubbay, widow of Fuad Gubbay one of the martyrs, after Iraqi Scud missiles attacked Israel. Israel which had not joined the coalition to drive Iraq out of Kuwait, in accordance with UN resolutions.
'Fuad and I were so happy when suddenly our lives were torn apart. One day four Iraqi officers in a blue Volkswagen drove into our home in Basra. They went straight to the air conditioners and pulled out the transformers. 'These are transmitters,' they shouted, 'you are spying for Israel.' Fuad was roughed up when he protested. Our younger son, David, was picked up and thrown against the railings when he tried to kiss his father. He cut himself, and his face was full of blood. The blood was an evil omen of the future. It was 1968 and I was four months pregnant. Fuad was taken away to a jail in Baghdad. Eventually, he was put on trial with other Jews, all accused of spying for Israel. The trial was broadcasted live on radio and television. Fuad pleaded not guilty. I travelled from Basra to Baghdad to see him in prison. When I got there they pushed me into a room beat me up and kicked me out. In the next room, separated only by a thin wall, the warders were telling Fuad, 'your wife is on the other side of the wall. She's pregnant. If you don't admit your guilt, we're going to rape her, and afterwards open her stomach and cut up the child.'
'The next day during the broadcast of the trial, I heard Fuad pleading guilty, admitting that on such and such days, he was here and there, sending secrets to Israel. When I checked the dates, I realised that Fuad had been with me and the children all of those times. He had made up the story in order to save us. On the morning of January 27, 1969, the streets of Baghdad were even more noisy and crowded than usual. It was the day of the hangings. A day of national celebration. I could hear the neighbours shouting enthusiastically, 'Hang the Israeli spies.' Dancers were brought from far and wide to dance under the gallows. There were free rides on the buses and trams so that people could come and celebrate under the corpses. And what was all the celebration about? The Iraqi nation was taking its collective revenge for defeat of a division on the Jordan front in the Six Day War, and that is how Iraqi television was broadcasting pictures of 9 hanging Jewish corpses, among them my husband Fuad, all innocent people. The loudspeakers announced that from 4 o'clock that afternoon, the bodies would be brought down so that the mob could deal with them in the streets. I returned to Basra and people, including Jews, avoided me for fear of being linked with my husband's so-called activities.'
Mrs Gubbay then described how she fled to Israel with her children in July 1971.
Over 50 more Jews were, after 1969, executed or died through torture in jail. Martyrdom is, unfortunately, not a new phenomenon in Jewish history. But the Jewish People, because of its adherence to the eternal Torah, has acquired the characteristic of eternity. This is exemplified now by our beloved State of Israel and the survival of the Jewish People in all lands of freedom and democracy. May we go from strength to strength, mechayil lechayil.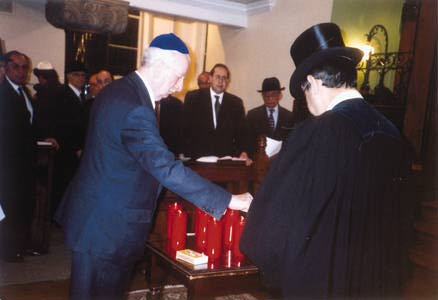 Rabbi Dr. Abraham Levy looks on as a candle is being lit by David Khalastchy who was deputy Chairman of the Jewish Council of Iraq at the time.
Other articles relating to the Baghdad Hangings :
30th Anniversary of Iraqi Jews executed in Baghdad in 1969
Abu Zuhair speaks out of his experience of imprisonment and torture
---
If you would like to make any comments or contribute to the scribe please
contact us
.