Page 28
The Baghdad Hangings, Baghdad 1969
30TH ANNINVERSARY OF IRAQI JEWS EXECUTED IN BAGHDAD IN 1969
On Wednesday 27 January 1999, a commemoration service was held at the Lauderdale Road Spanish and Portuguese Synagogue, London, in memory of the nine innocent Jews publicly executed in the main Baghdad Square. Over 200 people attended the Memorial Service, including representatives of the Israeli Embassy and the Board of Deputies of British Jews.
PROGRAMME:
Arbit service, Psalm 121, Psalm 137.
Addresses by Rabbi Dr. Abraham Levy; Percy Gourgey MBE, Chairman of the Jews of Arab Lands Committee;
Memorial Poem composed and read by Meer S. Basri; Hashcaba, Lighting of Memorial Candles, Shofar, Adon Olam.
The importance of this event is that these Martyrs were killed not by terrorists or by mobs but by the Iraqi authorities themselves, in an attempt to create a reign of terror in the country.
Names of Jews executed by the Iraqi Authorities and others missing without trace, presumed killed by the Secret Police.
Yacoub Abdel Aziz (Solicitor)
Ezra Gahtan
Salim Gahtan
Jacob Rejwan
Shaoul Rejwan
Shaoul BaroukhShamash
Azzouri Shamash
Dr. Ezra Khazzam
Albert Yehouda Nounou
Naji Saat
Ishak Dellal
Ezra Naji Zilkha
Heskel Saleh Shayek
Daoud Ghali Yedgar
Naim Khadhoury Hilali
Sabah Hayim Dayan
Daoud Dellal
Fouad Gabay
Yacoub Gourji Namerdi
Charles Raphael Horesh
Ezzouri Yacoub Joory
Daoud Zubaida
Nessim Yaeer
Akram Sion Baher
Ibrahim al-Sayegh
Victor Abu Daoud
Salim Sadka
Naji Chitayat
Naim Salman Fattal
Shoua Aziz al-Baqal
Yehouda Khdhoury Tweg
Rahma Khdhoury Tweg
Aliza Khdhoury Tweg
Naji Ezra Queshqoush + wife Suad Queshqoush
Shoua Soffer
Reuben Ezra Queshqoush (with his wife, 2 sons and daughter, the other daughter was saved because she was at College, but returned home to find her family missing and blood all over the house).
Sion Gourji Salman (Abu Sami)
Moshe Ephraim Moshi
Yacoub Atrakchi
PS: The first to disappear Yacoub Abdel Aziz on 14 September, 1972 it was Yom Kippur. He was last seen having bought a chicken for the fast, but did not turn up at the Synagogue, and the Queshqoush family were the last to be killed in their home on 12 April 1973.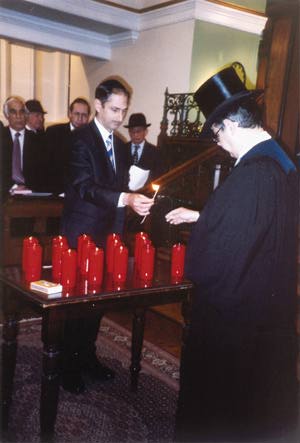 David Dangoor lighting a candle on behalf of his father Naim Dangoor
Other articles relating to the Baghdad Hangings :
Iraqi Jewish Martyrs 30th Anniversary - Speech by Percy Gourgey, MBE
Abu Zuhair speaks out of his experience of imprisonment and torture
---
If you would like to make any comments or contribute to the scribe please
contact us
.