The Late Daisy Shabi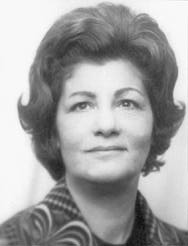 I am writing to you with reference to the very sad passing away of my aunt Daisy Nathaniel Shaby on August 3, 1998.
Both she and her husband Jack Aboud Shaby (who owned the Jack Aboud Hospital in Baghdad) were very prominent figures in the Iraqi Jewish Community. She was a charismatic, charming, elegant and a beautiful woman and cared for people more than herself. Although in her last months she did not socialise very much, but she always asked after people. Her presence and love is greatly missed by her family and especially her daughter, Huda, her sister, Valentine and two nieces, Pamela and Nina.
London
Pamela Shabi
---
If you would like to make any comments or contribute to The Scribe please contact us.