Letters to the Editor
I enclose an excerpt from the book entitled: From Babylon to Jerusalem, Studies and Sources on Zionism and Aliya from Iraq, by Zvi Yehuda (p.186-187). Translated from Hebrew into English by me.
Telegrams received from Baghdad on October 21, 1949
1. Yesterday there were more than twenty searches done, mainly in the homes of instructors and commanders. According to the latest news, three girls and one young man died of torture. The police took the prisoners off in different clothing in order to discover persons they knew from the Movement.
The person in charge and the instructors of the Movement and the Shura (the Hagana organisation in Iraq) cannot get out of their hiding places. Yesterday and today they searched also Jewish schools and they arrested teachers and pupils. In our opinion, as things are going on, our main task will be to bring the person in charge of the Movement and the Shura to Israel and thus complete our tasks, if we survive.
2. Despite the tortures applied by the government, the prisoners have disclosed no further names of the Movement members. The police use three kinds of torture:
a) Tying elbows and wrists with iron chains, raising them up and beating the whole body with a whip.
b) Placing the hands and feet in boiling water.

c) Inflicting burns on the entire body with a hot iron.
Members have entered a state of hysteria from these tortures; some of them can hardly be recognised.
3. The entire Jewish population is shocked and wants a day of prayer and atonement. The head of the Jewish community together with a few other prominent members oppose this for fear of antagonising the government, but they propose to surrender the weapons and move out, which means the death of all members of the Movement and the Shura. If there are any talks by the head of the community with foreigners, his answer cannot be relied upon.
4. The members of the Movement and the Shura are on the verge of despair. They demand armed action against some members of the government and the community.
5. We are not frightened by the situation, we have survived and will survive, but guidance is needed. Answer quickly!
6. Our work compels us to be on the move all day long. We may be caught at any moment. Are we to appear as locals or Israelis? We cannot appear as locals because we have no proof that we have not been absent for some time. Answer quickly!
---
Recently an article was published in Ma'ariv daily newspaper, that prominent Iraqi Jews, residing in England had met with the Iraqi "Ambassador" in London.
I think it is a right approach. The Arabs, among themselves, quarrel and fight each other, and then reconcile, on the face of it, and fall on each other's neck, and then unite against Israel. So in fact, Israel is the only catalyst in the Arab world. If really the Iraqi leaders want to meet the Iraqi Jews of outside Iraq - I think it is a good move, may be to a way similar to the approach of Morocco 20 years ago, that opened the way to direct talks between Israel and Morocco.
If the Iraqi leaders meet the Iraqi Jews, openly, in Baghdad, then this would neutralise some of the Iraqi open policy against the Jews and then Israel.
If fact, I suspect that this move from the Iraqi "Ambassador" is recognising the great influence of the Iraqi Jews, and to counter the Iraqi Opposition approach to the Iraqi Jews.
But, I think, the English Iraqi Jews should not agree to separate the Israeli/Iraqi Jews from them. Also, I think, that at least the first meetings should not be about property. When I represented Naim Dangoor at the WOJAC Conference here some years ago, I agreed that Israel must not represent the non-Israeli Jews concerning their lost property.
Anyway, I am ready to lend a hand in any endeavour to approach the Iraqi authorities, provided it is not clandestine and in the open, and am even ready to be included in any delegation - as a proud Israeli.
As you know, I am very good in the Arabic language and even have a word processor in Arabic, so if I can co-operate in any way (writing, translating, typing in Arabic) I am ready.
---
I received your journal from my cousin Ketty Levy Ozair in which I sadly saw the article about my late aunt and uncle, Semha and Philip Levy with their photograph.
I was pleasantly surprised to see so many letters from people that I knew. I read the different articles which drew me back in time and place and sat up all night just browsing through your journal and going back to the ones written by people that I knew and have not heard from in a long time.
New York
Stella Tawfik Cooperman
---
I am an Iraqi who has been living in Brazil for the past thirty-five years. But, whenever I have the opportunity, either in London, where I have my two sisters and a brother, or in Tel-Aviv, where I have my mother and other brother, I read it all and enjoy it so much - as it makes me remember my home life in Baghdad and the people I knew then.
Please put me on your regular mailing list.
Rio de Janeiro, Brazil
Albertine Joory (nee Sawdayee)
---
There is a very interesting story behind this photograph of my younger brother Fred with our maternal grandmother Khatoun Reuben (Karradi). Fred enlisted in the British army at age 17, in the Royal Berkshire Regiment in India. He was seriously wounded in the Burma campaign and was sent back to England, together with his regiment. Because of his army service in Burma, Fred was promoted to sergeant at a very young age. On route to England, the plane stopped in Palestine, and Fred obtained permission from the Commanding Officer to go to Haifa, where he believed he could track down our Uncle Victor, who was associated with the Shell Oil Co.
When he arrived at the building, a young man answered the door. Upon asking to see Uncle Victor, the young man responded that there was nobody by that name in the building. Fred told him that this was the address he was given. The young man insisted that there was nobody by the name of Victor Reuben in the building, and questioned Fred at great length how he was related to Victor Reuben. At the end of five minutes of intense questioning, the young man said "Shake hands with me - I am your first cousin Eliyahu!" You see, Eliyahu was with the Haganah, and all he could see was a man in the uniform of a British sergeant. The story had a happy ending, since my brother got to see all our relatives, including our dear grandmother, who was in the photo with Fred.
Fort Lauderdale, Florida
Joseph & Sandra Sion
As per letter sent to Dr. Naim Dallal, Montreal, who appears in the photograph below.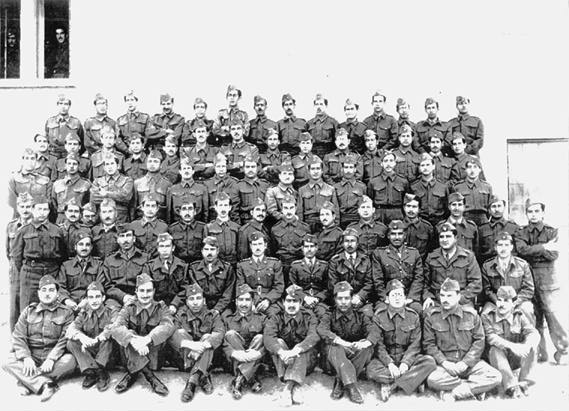 Above: Karrada, Baghdad
1948 Graduates of the Royal Military College
All were doctors graduated with the rank of Captain. Picture sent by Dr. Naim Dallal of Montreal.
Left to right :
Back row : 1....; 2 Dr. Salim Soffer; 3 Dr. Naim Dallal; 4....; 5 Dr. Yoseph Haya; 6....; 7....; 8....; 9....; 10 Dr.Abraham Soffer; 11 Pharmacist Sabha; 12 Dr. Sam Nathan.
2nd row from back : 1....; 2....; 3....; 4....; 5....; 6....; 7....; 8 Dr. William Shahrabani; 9 Dr. Ezra Nissan; 10....; 11Jewish Pharmacist; 12....; 13....; 14 Dr. Sasson Yado.
3rd row from back : 1 Jewish Pharmacist; 2....; 3 Dr. Maurice Saltoon.
4th row from back : 1....; 2....; 3....; 4....; 5 Dr. Mahdi Al-Saffar.
---
If you would like to make any comments or contribute to The Scribe please contact us.