The Late Jacob Mahlab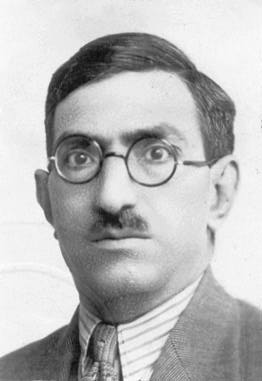 Mr Jacob Mahlab was a well-known figure among the Jews. I am certain many, many Iraqis would be pleased to remember him.
"Mess'i Mahlab" as all students and parents used to call him, was among the first students to enrol at the Alliance School in Baghdad when they first opened. He became the assistant Director of the Alliance Schools in Baghdad. In this capacity, he worked as Chief Accountant of both the schools for boys and for girls in Baghdad for over 45 years. He was involved in the collection of the students fees, seeing that the well to do parents paid more than those who had less means, and excused those of no means.
Mr Mahlab, who spoke French fluently, was awarded the Legion of Honour by the French Government for his contribution in promoting the teaching of the French Language in the Alliance Schools in Baghdad until 1951.
As a teenager I was sent to study in Paris with two other students, Flora Hay and the late Naima Nahum. Soon after we arrived, war was declared and Paris was occupied by the Nazis. My colleagues and I had to flee Paris to Toulouse. Travelling by train one day, in July 1943, I was arrested by the Gestapo, interrogated and kept in their quarters for 48 hours. I thought that was the end! I was released later because of my Iraqi passport (during that period, Rashid Ali's Iraqi Government in exile and Germany were allied). Later on, I was granted a false ID prepared by the French Resistance. This enabled me to move freely, but always with fear in my heart.
At the end of the war, in 1945, after a lot of suffering my colleagues and myself were sent by the "Joint" as Jewish War Refugees, to Palestine. Thanks to an influential Iraqi member of parliament, Abraham Nahum, who happened to be in Palestine, we were able to renew our Iraqi passport and return to Baghdad, after a 7 year absence (1938 to 1945).
Miss Hay and late Miss Nahum were nominated as French teachers at the Alliance School for Girls and myself at the Alliance School for Boys. This was quite a phenomenon then. I was the first and only woman teaching young boys of 14 to 17 years of age. Later I taught at the girls school as well.
On arriving to Israel in 1951, I continued to teach French at the Alliance School in Ramat Aviv - thus accumulating over 40 years of teaching.
My father came to Israel in 1953 and passed away in 1963 in Tel-Aviv.
Tel-Aviv, Israel
Rachel Mahlab-Goren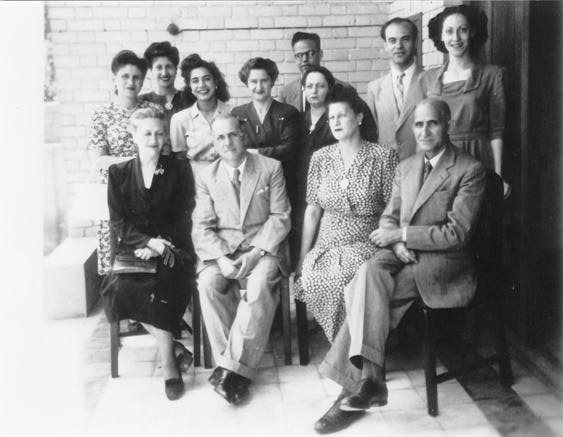 Above: French teachers and directors at the Alliance schools, in Baghdad, taken in 1949. From left to right:
1st row : Mrs Sabagh; Mr Laredo (the director of the boys school); Mrs Laredo (the headmistress of the girls' school, Laura Kadoury); Mr Sabagh
2nd row : Melle Totah (Mme Elkebir); Mme Barmaymon; Melle Rachel Mahlab; Mme Shohet; Mme ...?
3rd row : Mr Tarrab; Mr Barmaymon; Melle Flora Hay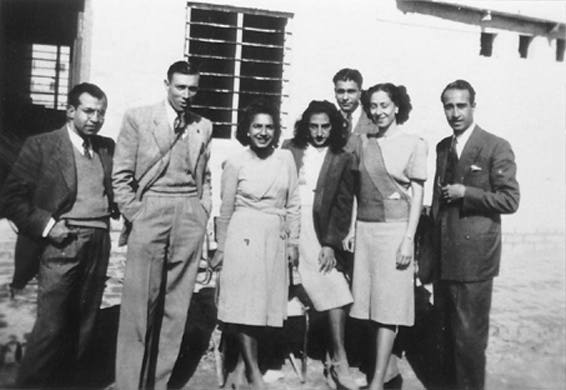 Above: Some members of the "Alliance Club" Baghdad - taken in 1949. From left to right :
1st row : ? Khebazza; Akram Nissan; Rachel Mahlab; Flora Hay; Shlomo Sehayek
Behind : the late Ovadia Herdoun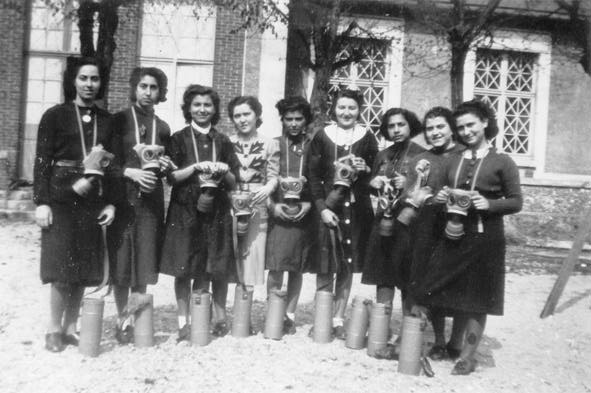 Above: A group of students of the "Ecole Israelite Orientale" in Versailles - France, holding gas masks, taken in 1940. Standing : from left to right : Flora Hay; the late Naima Nahum and the 3rd from right Rachel Mahlab. The rest of the students are not Iraqis. Some of them must have perished in Auschwitz in "La Grande Rafle".
---
If you would like to make any comments or contribute to The Scribe please contact us.