A Profile of the Late Mr Albert Abraham Lelah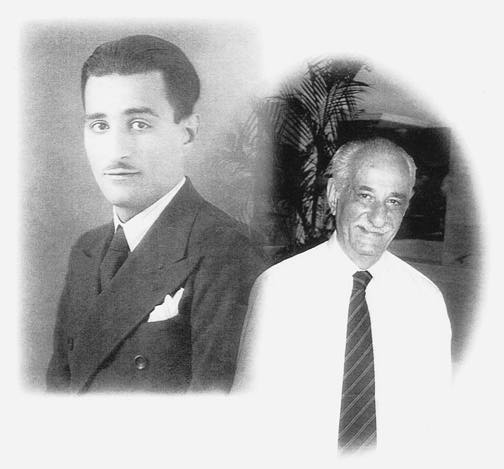 My grandfather - the late Mr Albert Abraham Lelah - was born in Baghdad, Iraq in June 1913, to a businessman - father and a housewife - mother. At the age of six, his family migrated to Singapore, as his father planned to set-up an export business in the region. While in Singapore, he attended St Anthony's Boy's School in Victoria Street - where he learnt the English language and excelled at the sports field. His family resided in Bencoolen Street, (a predominantly Jewish area), where his uncle owned a bungalow at the site of the present-day Strand Hotel.
In 1922, my grandfather returned to Iraq as his father had difficulty in adapting to life in Singapore. He continued his education at the prestigious Alliance School in Baghdad where he learnt the English, Arabic, Hebrew and French languages; among other subjects. At the age of sixteen, he borrowed start-up capital from his father to set-up a shop selling sundry goods. In a short period of time, he managed to rake in a profit and expand his business - from one retailing lower-value products, like thread and shoe polish; to one retailing jewellery and luxury watches.
In 1938, my grandfather decided to migrate to Singapore as the ties between the Arabs and the Jews were worsening and rumours were rife about the fate of the Jewish people. Singapore - as he recalled, remained unchanged; there was the same mode of transportation like trams and trishaws and the same hustle-and-bustle of a vibrant city life.
My grandfather established a business which concentrated on the exporting of Japanese goods. Being the entrepreneur that he was, my grandfather realised that he could obtain Japanese goods at very low prices due to the on-going Japanese-Sino war, which led to a boycott of the wholesale and retail of Japanese goods by Chinese Singaporean businessmen. His sense of timing coupled with his insight, enabled him to establish a lucrative business exporting Japanese goods to Baghdad. His sources of supply included European companies in Cecil Street and Robinson Road namely Sime Darby and Jackson & Co: and Chinese mercantiles, in High Street and South Bridge Road. In addition, he attended various auctions where he partnered with larger businessmen to auction for damaged goods retrieved from the various ships calling at the Singapore harbour.
In December 1940, he married a local girl - Miss Leah Elias, whom he met at a Jewish function in Great World. By this time, due to his proficiency in the Malay language, he opened a showroom in Middle Road and concentrated on retailing his goods to local and Straits Malays. He would repackage the Japanese goods acquired and pass them off as European imports to obtain larger profits.
Preceding the Japanese Occupation of Singapore in February 1942, my grandfather sent my grandmother and my then three-month old father - Mr Hertzel Lelah - to Bombay where he could be assured of their safety. He only knew much later that their ship was in fact bombed, but they survived and were rescued by another shipping vessel headed to Bombay. My grandfather, planned to leave on the next ship as he had to tie-up his business. Unfortunately, he never made it as the British announced their surrender to the Japanese two weeks later.
During the first three months of the Japanese Occupation, Singapore was virtually a ghost town as strict curfews were imposed. Shop-owners, like my grandfather were ordered to provide Japanese Army Officials any goods at no cost. In June 1942, the Japanese gave an order for all Jews to assemble at Waterloo Street for registration. My grandfather declared himself an Iraqi subject as he was aware of the mass persecution of the Jewish people in Europe and feared for his life. As such, he and my uncle were sent to Changi Prison - where they were interned for three and a half years.
My grandfather, adapted to prison life and never complained about the appalling living conditions and treatment by the Japanese soldiers. As such, prison life sailed-by smoothly. At the end of the Japanese Occupation, my grandfather decided to visit his parents in Baghdad and was accompanied by Mr Jacob Ballas (now President of the Jewish Welfare Board, Shalom Singapore), and the late Mrs Grace Ballas. After his visit, he went to Bombay and was reunited with my grandmother and father. He then left for Singapore alone, and was joined by his family later.
With the money my grandfather claimed in damages from the British government, he managed to open a business in Bencoolen Street - wholesaling and retailing watches and jewellery. In 1948, he rented a shop in Change Alley and named it Albert Store. During the early years of business, he built up a strong loyalty among customers due to his honest business practices. Among his valued customers who became good friends over time - were the late Tungku Abdul Rahman, (former Prime Minister of Malaysia); and, Mr Khoo Teck Phuat, (Chairman of Goodwood Park Hotels Ltd).
Albert Store soon became the signature store in Change Alley and was the only shop bestowed with the prestigious Certificate of Co-operation from the Singapore Tourist Promotion Board. In addition, my grandfather was Vice President of the Change Alley Merchants Association where he held office for fifteen years.
In 1984, my grandfather sadly retired as Change Alley was demolished. During his retirement years he dedicated his life to the Singapore Jewish Community where he held office in the Jewish Welfare Board, and was the Religious Advisor. His sense of humility and piety made him a well-respected and much loved member of our community. In addition, he touched many lives all over the world and donated regularly to various charities like The University Endowment Fund, The Community Chest, Rabbi Meir Baal Ha Nes; and, Bayit Layeled - an orphanage in Jerusalem. His death on 19th October, 1997 saddened many people who mourned and prayed for his soul.
---
If you would like to make any comments or contribute to The Scribe please contact us.