Exilarch's Scholarship
The Exilarch's Foundation has granted a scholarship to Dr. Itzhak Mualem to enable him to continue his studies at Bar-Ilan University.
Itzhak Mualem completed his Bachelors and Masters degrees at Bar-Ilan University in Political Science. The subject of his Ph.D. thesis was: Israeli Foreign Policy; Realpolitik or Jewishly-motivated. The subject is crucial to the understanding of Israel's foreign policy. Itzhak is highly recommended by his Head of Department.
Itzhak, who is 38 years old, is married with one child. His parents originate from Iraq. His family emigrated to Israel in 1951. He lives in Tel-Aviv and works as a teaching assistant in the Department of Political Science at Bar-Ilan, and as a teacher in the Jordan Valley College in Tzemach.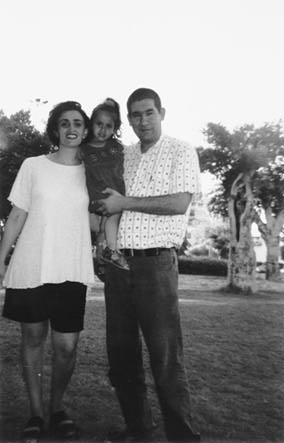 Dr. Itzhak Mualem with his wife and daughter
---
If you would like to make any comments or contribute to The Scribe please contact us.