Community
---
Obituary to Mr. Meir Basri
The last President of the Jewish Community in Iraq and Chairman of the Jewish Council of Iraq (Baghdad, 1911- London, 2006)
The older generation of Iraqi Jewish community leaders and writers is diminishing day by day. Last week (4 January, 2006), Iraq as a whole and the Jewish Community in particular, bid their last farewell to Mr. Meir Basri, a community leader as well as an eminent man of letters, a writer of short stories, a poet, economist and historian of diverse interests and talents, who passed away after a short illness in London. He was an active member of the Jewish Community which he served with devotion throughout his life. He served his country and community in many ways, as a member of the Board of Directors of the Jewish Community Council in Baghdad (1945), and as its Deputy Chairman (1947-1950), Chairman of Educational Committee (1958) and Chairman of the Jewish Administrative Committee in lraq (1967). In 1971, Mr. Basri was elected President of the Jewish Community and Chairman of the Jewish Council of Iraq. Following a period of imprisonment in 1971 after having been falsely accused of spying, he left Baghdad for Amsterdam in September 1974, together with a few other Jewish Iraqi families who were fortunate enough to obtain an official visa to the Netherlands. There they were received with hospitality as refugees, and provided with accommodation and financial support. From there the Basri family left for London where several relatives were already settled comfortably.
Like the late poet and attorney Mr. Anwar Shaul, Mr. Basri was among the very few eminent Jews of Iraq who were not only businessmen, but were also active in the cultural and literary life of their country. On both sides of his parents' families, the Basris and Dangoors, he was descended from pious, influential, wealthy and educated people, descendants of rabbis and businessmen whose members were scattered in many countries, in the Far East, Egypt, France, England and the USA. During the Ottoman and the Royal National Iraqi regimes they had strong financial and social relations with influential government officials.
Meir received his education at the Baghdad schools al-Ta'awun (Cooperation) and at the Alliance school, where he studied Hebrew, French and English, as well as Bible, Jewish history, the Talmud and Cabbala. Later he privately studied economics, contemporary literature, Arabic language and literature and Arabic poetry. In his youth he composed poetry in Hebrew and French. He studied Hebrew literature and was influenced by Bialik, Sclmeor, Tschernikhowski and others. The latter, who translated epics such as the Greek Iliad and the Finnish Kalivala into Hebrew, inspired him to introduce epics to Iraqi literature. He was also influenced by the French and English romantic poets and became one of the romantic poets of Iraq. Finally he devoted his efforts to study Arabic Poetry, mainly Arab poets of the Renaissance period of the 19th and beginning of the 20th centuries.
In 1928 he passed the exams of the Iraqi Foreign Ministry and was promoted to the office of Secretary and deputy of the Chief of Protocol in this Ministry. In 1933 he was transferred to the Ministry of Post and Telegraph. In 1935 he became Deputy of the Secretary of the Chamber of Commerce and in 1943 Director of the Chamber of Commerce, and founded and edited its monthly magazine. He was at the same time Deputy Supervisor of the Stock Exchange (1936). In 1937 he was sent by the Iraqi Government to Paris to serve as assistant to the Iraqi General Deputy to the International Fair. During WWII he was appointed to the post of secretary and member of various committees concerning commerce and food supply.
In October 1944 he joined the Iraqi Delegation to the International Congress of Commerce which took place in Ray, N.Y. During the following six months Basri lectured in the United States on the Iraqi economy at various institutions and media.
In 1945 he left the Chamber of Commerce to direct the Eastern Commercial Cooperation, and was elected a member of the General District Committee, and the Administrative Board of the District of Baghdad. During the years 1947-1952, he was Director of Commerce and Publicity as well as Deputy Director of the Dates Association at the Ministry of Economics until he left his positions to enter private business.
His literary activities were no less diverse. In 1928 he published his first literary article on ''Freedom'' following Khalil Jubran's method of poetry in prose. He published his poems as well as literary, social and economic articles in Iraqi, Egyptian, Lebanese and Syrian newspapers, and edited the economic section of several Iraqi newspaper as well as articles in French and '' English magazines. He was co-editor of the Arabic Section and editor of the English Section of ''The official Directory of Iraq'' (al-Dalil al-Iraqi al-Rasmi). However, his most important contribution to Iraqi journalistic activities was his work as Editor-in-chief of the monthly periodical Journal of the Chamber of Commerce (Majallat Ghurfat Tijarat Baghdad) (1938-1945).
He was invited to lecture on Iraqi Radio, at the Middle Eastern Broadcasting Service and at the BBC as well as Iraqi TV on topics such as the economy, society and literature. He was elected to the Iraqi Pen Club (1942), the Royal Asiatic Society in London (1950), and joined the International Orientalists Congress in Cambridge (1954) and Munich (1957).
Iraqi tribal and clan solidarity, the hatred of minorities, - especially the Jews after the establishment of Israel, the inability to distinguish between Judaism and Zionism, the desire to avenge the defeat of the Arab armies against Israel in 1948, brought about vicious persecutions, false accusations and assaults, and forced the Jews of Iraq in 1950 to leave their homeland after 2500 years.
Arabic poetry he was the first to introduce the form of the English sonnet in Iraq. He also composed two epics and various lyrical poems which were collected in his anthology Songs of Love and Eternity, published in 1991 in Jerusalem by the Association of Jewish Academics from Iraq, holding 263 Pages.
Because of his loyalty to Iraq and to the Jewish Community, he agreed during the crucial days of 1967 to be Chairman of the Board of Directors of the small Jewish Community which had remained in Iraq. He maintained daily contact with the Iraqi authorities in the years 1967-1974 in order to save and release the many arrested and imprisoned Jewish citizens and to enquire about the destiny of those who had been assassinated and kidnapped. He defended their cases in the Iraqi and International newspapers, demanding that the authorities restore their civil rights and to allow them to work or to travel abroad with official passports.
The late Meir Basri was of amiable character, hospitable, generous and maintained, for several years in Iraq and abroad, a Literary Salon which eminent writers, poets, politicians, journalists and intellectuals attended. The discussions were serious, with no joking, slandering or gossip. He was very serious and meticulous in choosing his information, subjects and personalities when writing history and biographies. His wife Marcelle helped him in keeping open house which welcomed every guest and visitor, whether they asked to enquire about economic problems of Iraq, its history, personalities, governments, Jewish community and its history, the relations of different governments towards the Jews before and after he left Iraq in 1974, or had questions on the foreign relations between Iraq and other countries and about Iraqi refugees in England who had escaped the Ba'ath regime. He was a living encyclopedia on many of these topics.
The late Meir Basri published more than 14 books in Arabic on history, economics, minorities, and biographical works on eminent poets, writers, artists, men of letters, and Iraqi politicians. Other books were on Turkmen literature and short stories. The Association of Jewish Academics of Iraq published four of his works: Eminent Jewish Men of Modern Iraq (A'lama al-Yahud fi 'l-Iraq al-Hadith) (in two volumes, Jerusalem 1983, 1993), his anthology of Arabic poetry The Songs of Love and Eternity (Aghani al-Hubb wa-'l-Khulud) (Jerusalem 1991) and his important memoirs Life's Journey
From the Banks of the Tigris to the Valley of the Thames, Reminiscences and
Thoughts (Rihlat al- 'Umr min Difaf Dijla ila Wadi al-Thames) (Jerusalem 1992). These memoirs are of special importance for the study of the history of Iraq and its Jewish community. It contains unique information, comments and descriptions of events not available in other sources and constitutes first testimony by an objective historian. It also contains photos of many personalities on special occasions and several letters and documents which he exchanged with the Iraqi President during the first period of Ba'athist rule, Ahmad hasan al-Bakr and his Deputy Saddam Hussein. All these books published by Mr. Basri were received with favorable reviews by many writers from Arab countries. He was loyal to Iraq and as an Iraqi Jew was proud of his faith, family, works and achievements. He was hard working, honest and devoted to his optimistic aims of integrating the Jewish community in Iraq as an active and productive element in the Iraqi mosaic of minorities and religions. In London he joined in the activities of the Iraqi refugees in England and was received with great respect. He joined their activities and accompanied them with his advice and experience.
Saddam Hussein's fall in April 2002 and the return of many Iraqis back home gave him hope that he could return to a democratic and free Iraq and resume once more his activities there and restore the Jewish community.
However, the cruel realities in Iraq were stronger than his hopes. The Association of Jewish Academics from Iraq offers its condolences to his family, relatives and friends for the loss of this unique and special personality of noble character.
May his soul rest in peace.
Prof. Shmuel Moreh, The Hebrew University of Jerusalem and Chairman, Association of Jewish Academics from Iraq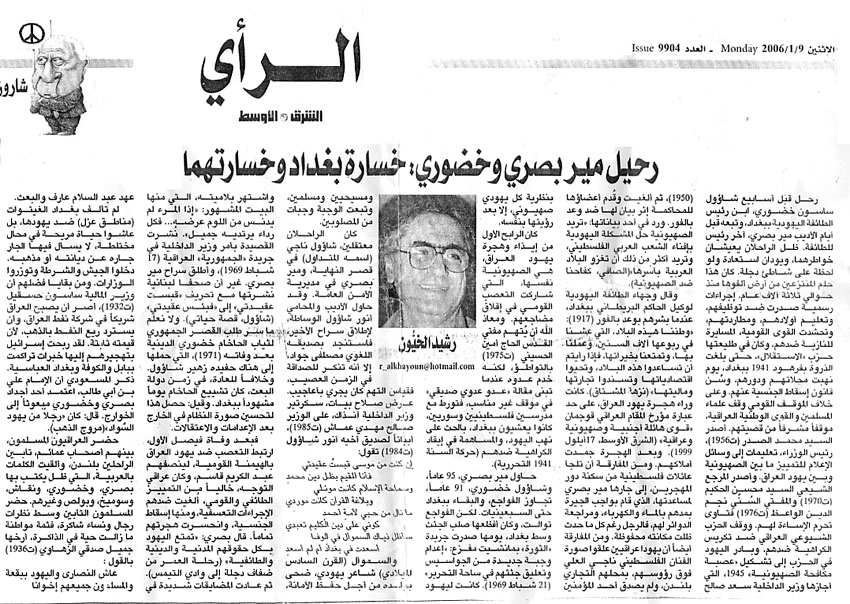 If you would like to make any comments or contribute to The Scribe please contact us.