Page 85
The Elias Family
I have read with interest your magazine 'The Scribe" and am wondering if you have in your archive any information about the Elias family. I enclose the immediate family tree and a photograph of Abdullah Elias with four of the five children (youngest not yet born).
I am married to his grandson, David William. I also enclose two copies of photographs taken in Baghdad. Abdullah and his brother Meir were cotton merchants and moved to Manchester in about 1895-1900.
London

Jennie Elias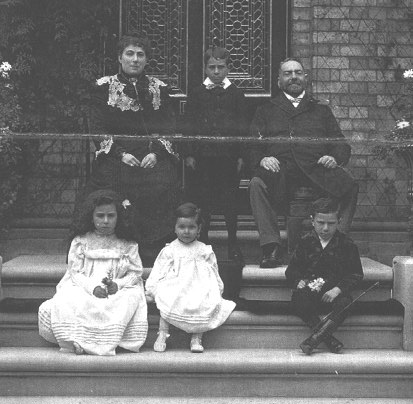 Abdullah Elias with wife Sarah Flora (formerly Bassoos) with four of their children outside their Manchester home in 1901.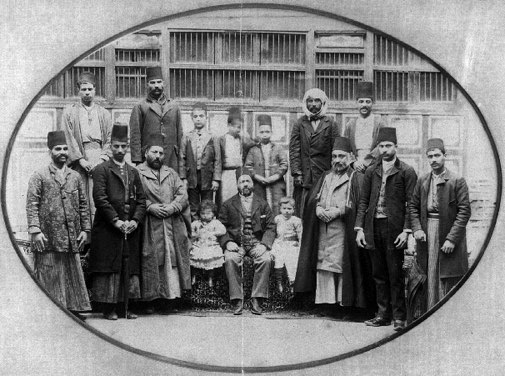 One hundred years ago - picture taken in Baghdad with teachers and the students of the Midrash Talmud Torah Yeshiva Seated - Abdullah Elias with his son, Eliahoo Victor and his daughter, Messooda Lucy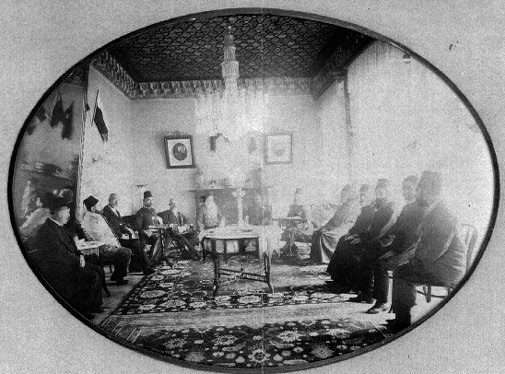 The Turkish Governor of Baghdad with his Cabinet and foreign Consuls in the Sarai c. 1895
Scribe: According to our information from the book by Dr Abraham Ben Jacob, Abdullah Elias was the eldest son of Eliahou Shlomo David, (see family tree elsewhere in this issue).
Abdullah and his brother Meir were cotton merchants and used to travel to Manchester. In 1892 Abdullah returned to Baghdad to marry Sarah Flora of the Bassous family, and there, three of his children were born. He was falsely accused of insulting Islam, but the Wali Haj Hasan Rafiq Pasha who was a friend of the family dismissed the accusation. In 1899 Abdullah moved to London and appointed his nephew Menashi Saleh as his agent in Baghdad. He donated fifty pounds for the repair of the Shrine of Ezra Hasopher near Basra. Sir Sasson Eskell was a cousin.
His brother Meir was also a generous benefactor and in 1910 he built the large Meir Elias Jewish hospital which treated non-Jews also and was only the third in the city. The hospital was opened by the Wali and members of the government and the consular service. He suffered sun-stroke while supervising the building of the hospital and died the same year. After his death his large house was converted into a synagogue bearing his name, where the Emir Feisal was acclaimed on arrival to Baghdad to become King of Iraq.
---
If you would like to make any comments or contribute to the scribe please contact us.