Page 69
MORDECHAI BEN-PORAT AVE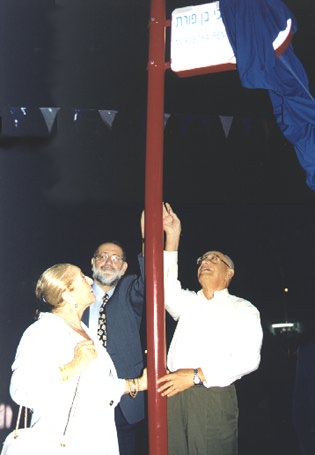 Mordechai Ben-Porat (right) unveiling the sign of Mordechai Ben-Porat Ave. in Or-Yehuda. In the centre - Mayor of Or-Yehuda, Itzhak Buchovza and on the left Mrs. Nechama Ben-Porat
UNVEILING CEREMONY AT OR-YEHUDA
Hundreds of Or-Yehuda citizens, as well as many other guests, participated in the unveiling ceremony of Mordechai Ben-Porat Ave and Moreshet (Heritage) Square that took place last November at the Babylonian Jewry Center square. Also participated in the ceremony the Mayor of Or-Yehuda - Lawyer Itzhak Buchovza and the "Or-Yehuda Youth Choir" that opened with the song "It's not a dream".
The Mayor said: " It is not customary to commemorate a living person but it is written in the Holy books 'After reaching Jubilee it's allowed to touch'. therefore, I decided that it's only appropriate, especially today, to express the appreciation we have for the history that Mordechai Ben-Porat generated in Or-Yehuda when he established a remarkable town out of a muddy soil and the tents site of Chiriya & Zakkia refugee camps, until what has become of the city of Or-Yehuda today.
Mr Ben-Porat was the first council leader during the years 1955-1969 an he built it all out of nothingness". Mr Buchovza added and said: "Mordechai Ben-Porat contributed enormously to the shaping and the establishing of the Jewish people heritage and was the centre pillar and the main wheeler of "Operation Ezra & Nechemia", an operation that happens once in 2000 years.
The honouree of the event, Mr Mordechai Ben-Porat said: "I pinch myself to make sure that I am alive because I am used to participate in ceremonies honouring the dead and here I am, standing in front of you". He added and said: "We, the people who lived then in Or-Yehuda, were the first to arrange rides for youth so that they can attend high schools in Petach Tikva and Ramat Gan."
Mordechai Ben-Porat also said: "The Babylonian Jewry Center and the Museum are the diamond of the culture and the symbol of Or-Yehuda - facing all the restaurants in the city. So far, over 260,000 Israelis visited the center, of which 110,000 are youth. This is an accomplishment that enables us all to be proud of, thanks to over 2600 years of heritage, history that connects Israel to Babel for many generations".
As it is publicly known, Mr Ben-Porat had many public functions in Israel, such as a Knesset Member and a Minister in Menachem Begin's government, alongside Mr Moshe Dayan.
Eran Yoels

The Babylonian Jewry Center PR Dept
---
If you would like to make any comments or contribute to the scribe please contact us.