Page 52
The following article is intended not only to remember my beloved father Shaul Darwish, but also to celebrate our beautiful Iraqi heritage.
by: Tamara Ruben
Westfield NJ
MY KING SAUL
In Ramat Gan, Israel, I remember day-dreaming in Bible classes about King Saul, the defeated biblical King, whose tragic destiny alienated him from G-d, from his people, from living life to its fullest. I remember thinking how he had it all but had nothing as he was consumed by an invisible yet devastating disease of melancholy.
My thoughts would then drift to my own father, Saul, whom I secretly anointed as my King, as early as I can go back in time. My King also had moments of melancholy. Moments that seemed like an eternity to a growing child. When my King Saul was triumphant over life's yoke, I would rejoice, my soul would celebrate. Our lives would be transformed into exotic trips in northern Israel to virgin places, magnificent in their beauty and simplicity. I recall laughters, practical jokes, abundance of fresh food, and the exotic aromas of spicy meals. The King's Chamber would once again be bustled with people coming and going, with rich stories that only my father, the Master Story-Teller, could tell about his life in Iraq. About his life in the desert as an officer in the British Oil Company with his favourite dog and horses, his travel to Palestine in the 30's, his audacity to face some hoodlums in the market place in Baghdad, his firm stand for what he believed was just and right even at his own expense and ours, his unmatched ability to deal in commerce with people while tending to his unmarried sisters.
And we listened with thirst to the stories and "travelled" with him until he no longer could...
His profound passion for learning, for nature's wonders and animals became his nourishment, sustaining him in those dark moments when his soul ached. When he felt trapped. When darkness ascended upon his spirit. When even a soft touch of his child of 5 or 10 was dismissed, unheard.
On Tu B'shvat of 1984 at the dawn of spring, as nature awakens in Israel with the first signs of spring, my King Saul died, spared by the oncoming snowstorm that day which he so dreaded in his last years. He died fighting his own battles as the mighty King of Israel, in a quiet hospital room in New York. The King's Chamber was once again silent.
Recently, at my role as a Director of Jewish education at Temple Emanu-El in Westfield, New Jersey, I wrote the article below. It was written in celebration of the beautiful and fertile Iraqi Jewish community, and above all, in celebration and memory of my beloved King Saul, my father Shaul Darwish Z"L, the son of Benyamin and Salha of Baghdad, Iraq.
1950, Baghdad, Iraq. A baby is born to Shaul and Violet Darwish, a Jewish family who was a part of a splendid Jewish community in this ancestral part of the Middle East. A community which remained intact and proud of its heritage in spite of being exiled from Judah by the Babylonian Empire in 586 BCE. While many returned to rebuild the second Temple with the help of Ezrah & Nehemiah, the prophets, a good number of the exiled remained in Babylon/Iraq.
1950, Westfield, New Jersey. A Jewish congregation in Westfield is charted after years of dreams and vision of its founding members. In her magnificent Historic Narrative, one of the founding members and author, Evalyn Averick, writes: "It seems that during a social afternoon...six women turned the conversation to their dreams of starting a Temple in Westfield...They spoke to other women, then to their husbands, and to the other Jews of the community, resulting in the gathering...the first official meeting."
I often wonder about these two births and the hand of fate that has linked them together. Two worlds seemingly apart, yet in many ways connected. Both communities struggled with maintaining their Jewish identity and the continuation of Jewish life, while being a small minority. Both communities used their vulnerable state to build strong and healthy societies that will serve them and the generations that will follow.
With the inspiration of the Prophets in the Babylonian exile, a profound sense of hope guarded the Jews against despair and extinction. Zeal for learning and Jewish scholarship resulted in the establishment of the Academies for the study and interpretation of Torah in Babylon. The Jewish community there began to thrive and served as a guiding light to the rest of the world's Jewry.
As a minority in the early '50's in Westfield and other places in America, "Jews found that the United States Constitution with its noble ideals, nevertheless, was no substitute for Torah." Here too, the Chalutzim, the pioneers of Temple Emanu-El, listened to the call of Ezrah the Prophet and his contemporaries to build a Jewish community in spite of all the obstacles. With a prophetic spirit and a keen sense of vision, they set to create various segments of the Temple. The fascinating history of the Temple is a story of Livnot Ulhibanot, to Build and be Built.
Two weeks after my birth, my family, along with thousands of other Jews of Iraq and other countries, set out to Israel to realize yet another vision, another dream. A dream that travelled with our people since antiquity. "Veshavu Banim Ligvoulam," and the Children of Israel have returned to their Land. Jeremiah's prophecy was realized. Building the country, providing physical and emotional refuge for its wandering sons and daughters of Israel were central to the newly found State.
During these years, in Westfield too, there was a sense of yearning to build the newly formed community and developed it. "The 'togetherness' concept perfectly fit the mood of Westfield Jews who were searching for identity, who were building a Jewish community and were concerned about relating to their neighbors." (Ibid)
When I assumed the position of Director of Education at our Temple Emanu-El in 1989, I was thrilled to discover a community infused with deep commitment to Jewish learning, and an unconditional love for its young ones. I was excited to join a Temple whose passion to Israel, to social justice and Tikun Olam are a way of life. Standing on the shoulders of others before me in Baghdad, Israel and Westfield has been a guiding light for me in working with a superb staff and most committed parents at Temple Emanu-El Religious School. Together we have transformed it into a true Beit Midrash, a House of Learning. A place where our children and many of our parents have evolved to become informed Jews who experience in so many creative ways Judaism as a source of joy, beauty, meaning, consolation and hope.
At 50, I bless you, Temple Emanu-El and the entire congregation. At 50, I bless myself and those I cherish.
---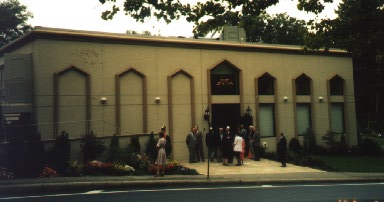 The exterior of the Iraqi Synagogue called Babylonian Jewish Centre - in Great Neck N.Y. fully described on page 15 No. 72.
---
If you would like to make any comments or contribute to the scribe please contact us.