Page 39
Reunion of the Frank Iny School Students of the Class That Graduated in 1962
A reunion was held in London last May of the Frank Iny students of the class that eventually graduated in 1962.
The group stayed overnight at Danesfield House, Marlow-on-Thames and then attended a Barbeque lunch at David Gabbay's house in Marlow.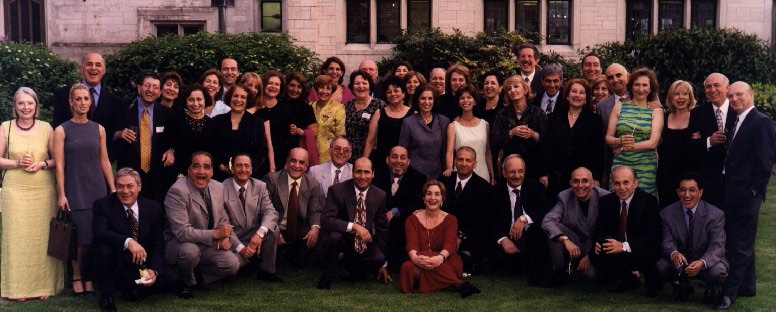 Shown above left to right: Standing:
Ann Shamash; Lisa Hoory; David Gabbay; David Shamash; Sylvia Koreen (née Ibrahim); Desirée Dellal (Shina); Rita Tricot; Sami Tricot; Olivia Shashou (Sheena); Gilda Aslan; Edna Shamash; Laurette Kashi (Nourallah); Ibtisam Shaul (Heskel); Emma Ghazal; Layla Shalom (Rahamim); Jack Shemtob; Faiza Vasely (Jacob); Suad Yohanan (Ibrahim); Joyce Gabbay; Ketty Cohen (Shohet); Emile Cohen; Ingrid Samra (Bekhor); Marsha Yamen (Sassoon); Lydia Jiji (Dabby); Isabelle Bar-Moshe (Twaig); Michael Cowan; Jack Atraghji; Olivia Cowan (Timan); Karim Timan; Ruth Timan; David Shamash; Gilda Shamash; Estelle Shohet; Shoua Jiji; Tommy Vasely; Sami Balass; Aslan Aslan; Yamen F Yamen; Samir Ghazal; Sabah Shamash; Charles Timan; Saïd Hoory; Ferial Balass (Mussaffi); Sasson Yamen; Samir Samra; Samir Shohet; Jimmy Shamash; David Dellal.
---
If you would like to make any comments or contribute to the scribe please contact us.