Page 38
Marriage of Robert Khalastchy to Fiona Rule
Last February, the wedding took place in London of Robert, younger son of David and Eileen Khalastchy to Fiona, daughter of Desmond and Anne Rule.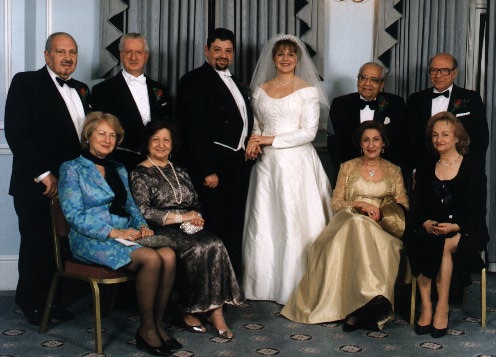 The above picture shows the couple with Robert's parents and uncles.
Left to right: Naim and Renée Dangoor; David and Eileen Khalastchy; Robert and Fiona; Abdullah and Claire Dangoor; Sasson and Stella Dangoor.
As evidence of the rapid growth of the Iraqi Jewish community in London, the picture below shows some of Robert's cousins with spouses.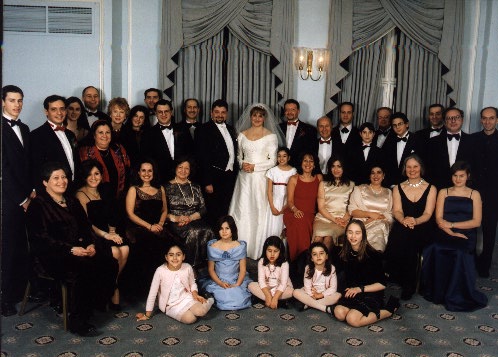 Left to right: Standing;
Daniel Dangoor; Robert Dangoor; Anna Dangoor; Leif Engdahl; Bibbi Engdahl- Dangoor; Judy Dangoor; Audrey Dangoor; Michael Dangoor; Elie Dangoor; David Dangoor; the couple Robert and Fiona; bridesmaid Gaby Khalastchy; Freddie Khalastchy; Frank Khalastchi; Eric Dangoor; Reuben Dangoor; David Dangoor; Robin Engdahl; Eddie Dangoor; Robert Dangoor; Gary Fox.
Sitting:
Daniella Dangoor; Joy Dangoor; Sandra Dangoor; Eileen Khalastchy; Linda Khalastchi; Astrid Fox; Rosie Khalastchy; Hilary Dangoor; Natalie Engdahl.
Sitting on the floor:
Lauren Dangoor; Jacqueline Engdahl; Alexandra Dangoor; Stephanie Dangoor; Sarah Dangoor.
---
If you would like to make any comments or contribute to the scribe please contact us.