Page 19
VICTORIA BASHI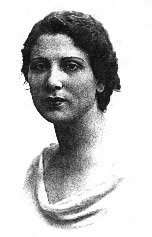 I am enclosing a picture of my sister Victoria who passed away in New York recently at age 93.
She was pre-deceased by her husband, Sassoon Aboody Bashi, who was a senior financial officer at the Rafidain Bank in Baghdad until forced out during the purge of Jewish employees by the Iraqi government.
After moving to the States, Victoria continued her academic studies and received a scholarship from the US government. She also took up artistic painting as an avocation.
She is survived by her three children, Betty (Angele) Shear of the UK, and Abbood and Menashi of the US and her grandchildren.
Montreal

Naim S Mahlab
---
If you would like to make any comments or contribute to the scribe please contact us.