Page 50
Rahel Shahmoon School
Putting a Face to the Name
Thousands of pupils graduated from the Rahel Shahmoon School established in 1923 in her memory by her father Elia Shahmoon, after her tragic death in the first week of her marriage. She succumbed to a virus which traditional medicine and sooth-sayers could not cure. Money was added to her dowry to rebuild a property (formerly Taawen School) in the centre of the Jewish quarter of Baghdad, with modern classrooms, science-lab, gymnasium, a stage and a beautiful Synagogue. To the right the Shahmoon family. Pictures below show various activities at the School.
Baghdad 1920 Back Row: Rahel Shahmoon and her sisters Kate (Gubbay); Flora (Solomon); Mozelle (Bekhor). Front row: Left to right: Naim Shahmoon; Messouda Shahmoon (step mother of Elia Shahmoon); Serah Shahmoon; Elia Shahmoon.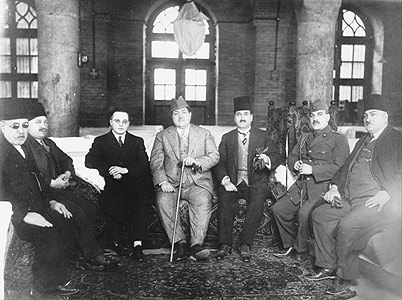 1924 - Visit of Prime Minister Jaafar al-Askari to Rahel Shahmoon School. Left to right: Headmaster; Ezra Menahem Daniel; Schools' Inspector A. Brotman; Jaafar Pasha; Abraham Nahom; Tahsin Quadri; Shaoul Sulaiman.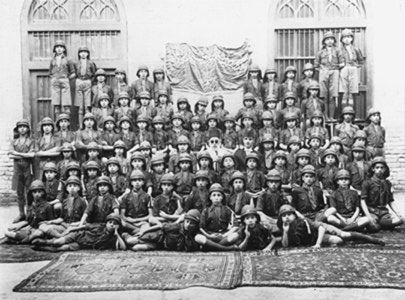 1924, Boy Scouts with Headmaster Shimon Muallen Nissim and Sports- master Tawfiq Basri.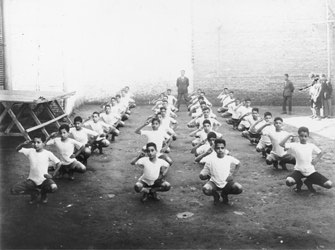 1925 - Physical training exercises.
Inauguration of the school
1924 - Chief Rabbi Hakham Ezra Dangoor surrounded by prominent members of the community, which was at its zenith, on the occasion of the first visit of Elia Shahmoon to his School, following his return from Shanghai.
From left to right 1st row sitting: ---; Sion Nisan; ---; Abraham Hayim Somekh; Sasson Daniel; Menahem Daniel; Chief Rabbi Ezra Dangoor; Elia Shahmoon; Sasson Murad; Sasson Shahmoon; Abraham Hakham Nissim.
Second row; Yamen Cohen; Shimoon Moualim Nissim; ---; Ezra Chitayat; Joseph Hakham Isaac; ---; ---; Salman Yehouda; ---; Shaoul Khazma.
Third row: Ali Ghalib Azawi; Sayid Jawad; Baroukh Khazma; Salih Yehouda; ---; Ezra Sehayik; Joseph Murad; Hougui Twena; Ezra Abdalla.
Fourth row: David Abou Roubein; Abd El Sattar; Moshe Soffer; Ezra Twena; Reouben Zelouf; Mouhamad Fatian; Moise Mayer; Rouben Y Zelouf; Gourgi Sehayik; Jacob Moualim Nissim.
Courtesy of Rabbi Abraham Gubbay
---
If you would like to make any comments or contribute to the scribe please contact us.