Page 38
BOOK REVIEW: by Dr. Lillian Dabby-Joury
Harbingerrs Of Peace
by Nuzhat Katsab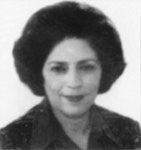 The author Nuzhat Katsab
Nuzhat Katsab's book, "Harbingers of Peace," published in Hebrew by Ma'ariv Publishers in Israel, portrays dramatically and in accurate detail a remarkable world of women covering more than half a century. The book has also been published in Arabic. The book traverses countries and nations and builds bridges between them, Jewish, Arab and Druze women working for women, women leading other women towards a better, more enlightened and healthier society, building the first real bridge for peace in our region which is still torn by wars, disputes and struggles. This is a unique document in the history of Israeli society and the time has come to reveal it, from its hesitant beginnings, the delicate fabric of its existence and its achievements both in the Jewish and Arab communities.
Jewish tradition teaches us that man has a duty to act, but even more important is the duty to tell our young ones so they will know of their ancestors' deeds. This is a moral and social duty, a wisdom that recognises that deeds do not leave their mark for generations unless the generations know about them and relate their stories. In her book "Harbingers of Peace," Nuzhat Katsab, knowingly or unknowingly, follows this beautiful tradition, describing to this and future generations her activities in the field in which she is involved.
The writing of the book is eclectic, combining a variety of styles that are captivating in their directness and sincerity, from the autobiographical style in the chapter that includes the life of the individual and its legendary nature, incorporating her personal experiences while focusing on responsibility for the issues at stake and their importance, and an infinite web of sensitivities to various public issues, to the style of the story-teller with a poetic soul, who is deeply involved in her community and her nation as an Israeli and a Jew.
As an Israeli Jewish emissary to Arab women, throughout her manifold activities she has not forgotten the world of her past, with its people and customs and its complex relationship with her world. Her mission among Israeli Arabs in our country is a pioneering mission, and it won the support of the establishment, which was open enough to understand the importance of her mission. This chapter describes her contribution to the status of Arab women and to improving human relations in an attempt to redress the balance of destiny in our lives together. Peace is not just a signed agreement but a system of human relationship, friendship, neighbourliness, national respect and mutual trust.
The author immigrated from Iraq in 1951 and studied at the Hebrew University of Jerusalem. For the past 15 years she has been active in Israel's Arab sector - working to establish a movement to further the status of Arab and Druze women through the women's organisation, Na'amat, and to promote co-existence.
In 1974 she was elected to the Knesset and fulfilled many public missions, while continuing to act for peace and understanding. Today she serves as the Chairwomen of AHI - an organisation established by Iraqi immigrants to promote research, literature and the arts. There is a special chapter in this book about the integration of Iraqi Jews in Israel.
Nuzhat Katsab's voice and her book are the genuine voices and actions that build goodwill and understanding, and they are the living proof that if we aspire to live in co-existence and promote peace - we can do it.
I hope this book will find an audience of readers who will see the outstanding work and devotion of this one individual as a model and an example for many others.
---
If you would like to make any comments or contribute to the scribe please contact us.