Pictures from Recent Happy Occassions
---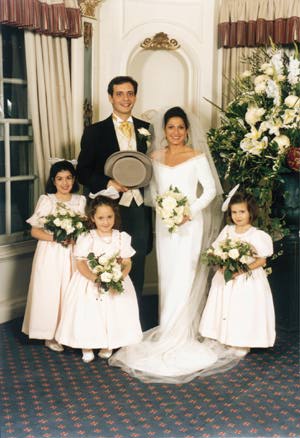 Robert and Joy Dangoor at their wedding with the bridesmaids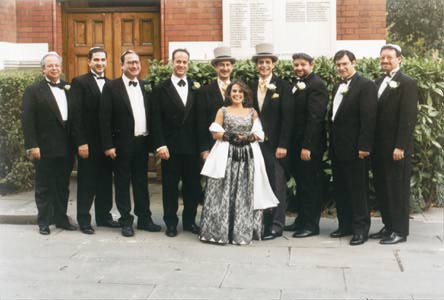 The Ushers at the Dangoor - Murad wedding with Sandra Dangoor in front.
All being the bridegroom's cousins and of each other
Left to right : David; Michael; Robert; Eric; David; Robert; Robert; Elie; Freddie
---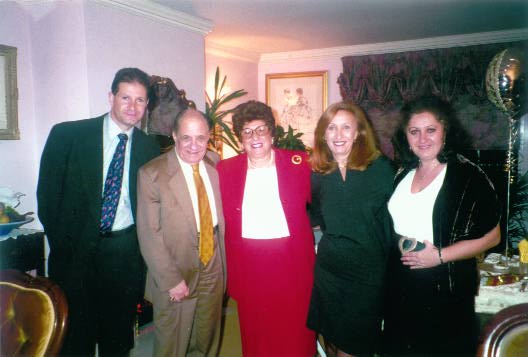 Keddy and Bertine Soffair recently celebrated their Golden Wedding at a Dinner and Ball at the Langham Hilton.
Above, left to right: Armand; Keddy and Bertine; Golda; Elizabeth
---
We would like to update you on a recent event in our family. Our dear father Mr Jacob Zilkha, who passed away in Israel in April 1997 (obituary 68 page 33), was honoured in August 1998, by the city of Bat-Yam with an opening of a park in the city in his name. Mr Zilkha was an architect for fifty years planning buildings all over Israel, but mainly in Bat-Yam, which grew to become a big bustling city. At the opening of the park were present many friends, colleagues and family members. Among them the mayor of Bat-Yam, Mr Sagie and his wife; Mr Ben-Porat; Mr Ezra Gabbay, head of the Babylonian Education fund; representatives from the Technion in Haifa and other organisations as well as many friends.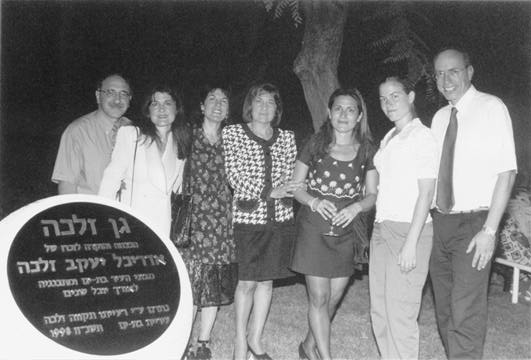 Left to right : Dr. Edmond and Yael (daughter) Shahin, Talma Ron (daughter), Mrs Tikva Zilkha (daughter), Chen Ron (granddaughter) and Haim Ron, near the stone that atates the park's name : 'Park Zilkha'.
---
If you would like to make any comments or contribute to the scribe please contact us.