Page 23
Obituary
Selim Obadia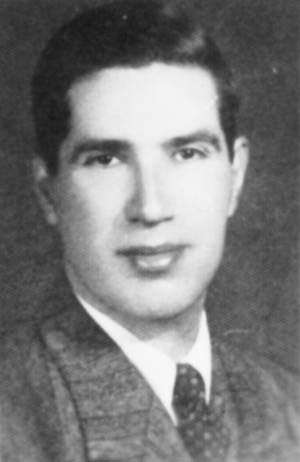 Selim (Zughayir) Obadiah died in London on 14th December 1998 aged 94. He was born in Baghdad in 1904, the son of Heskel Saleh son of Shua and grandson of the eminent Rabbi, Hakham Eliahou Yehushuah Obadia (1790-1895) who was the Ab Beth Din of Baghdad for many years in the 1840's and 1850's. He lived to be 105, conserving all his mental faculties and revered in Iraq, Turkey, Palestine and the Far East.
Selim studied at the Alliance School where he learnt Arabic, French, English and Hebrew. As a young man he was employed at the office of the British High Commissioner. In 1928 he joined the offices of the Auditor-General of the State where he served until 1940. He worked subsequently in insurance and he was a keen and active Freemason.
After settling in London, he married Steiffy Sopher in December 1961. Selim Obadiah was a keen amateur photographer and had a large collection of historic photographs.
Meer Basri
Selim Obadiah was caring and gentle in his ways and a staunch family man. His polished manners were of the old school and it was always a pleasure to be in the company of such an accomplished raconteur.
Before coming to this country in 1961, Selim had had a distinguished career as an auditor in the department of the "Controller and Auditor General" under an English head, Mr Parlby, who had been seconded from the Indian Civil Service. All the auditors were Jews apart from one Armenian and two Christian Chaldeans, thereby incurring the disapproval of the Arab politicians, who dubbed the department a Jewish stronghold. So, when Mr Parlby returned to India in 1935, and was succeeded by an Arab politician, the portents were not good and Selim like many like him resigned to seek new pastures.
He forged successful careers as agent for Century Insurance and later on head of insurance at Frank C. Strick's until he left Baghdad.
Selim had a large circle of friends and will be missed by all who knew him. He is survived by his devoted wife Steify, a son David and two daughters Gracie and Linda.
Edward Raby & Shawky Dallal
In tribute to the late Selim Z. Obadiah, my brother-in-law, I was privileged to work with him in the same company Frank C. Strick in Baghdad, when I knew him as a man of compassion and wonderful personality.
He was well-known in the Jewish community in Baghdad. He served in the Ministry of Social Affairs and other ministries of the government of Iraq.
After the revolution in 1958, he immigrated to England where he married and had three children. He gave his family immense care and love.
He associated himself with prominent and intellectual people and was well-spoken and highly presented in the community.
His legacy will be remembered for a long time.
Nissim Ezra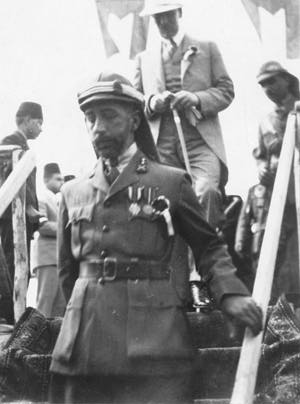 Emir Feisal, future King of Iraq, arriving at Basra on a British Battle ship in June 1921. On hearing of Feisal's arrival, my father Selim Z. Obadiah travelled to Basra to take the above photograph and to his amazement found nobody there to greet the Emir. He therefore walked right up to him, smiled at him and took this photograph with his Kodak Brownie camera.
Scribe: The reason why there were no crowds to greet the Emir Feisal, who came to be offered the throne of Iraq, is probably that the people of Basra never wanted to be part of an Arab kingdom of Iraq. Likewise, at that time, there was no need for security arrangements as terrorism was still in its infancy.
The arrival of Feisal at Basra was a result of the decision of the Cairo Conference convened by Winston Churchill in March 1921, at which the candidacy of Feisal for the throne of Iraq was endorsed by Sasson Heskel and Jaafar Al-Askari, the two Iraqi delegates.
---
If you would like to make any comments or contribute to the scribe please
contact us
.